Wireless networks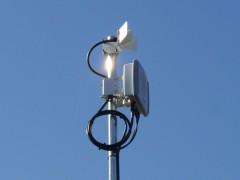 Key services
Point-to-point and PTMP links
Remote building / plant links
Temporary links
Remote CCTV links
Hot-desk environment
Vehicle mounted solutions
Wireless surveys
A wireless network gives easy and instant network access. However, to provide a multi-point wireless network that gives reliable bandwidth over large area requires a thorough site survey and design by a specialist. Without these, the experience of a poor wireless network could be, "It's too slow, only works for half of the office and drops out the other side of the wall".
As a true wireless network specialist, using products from leading manufactures such as Cisco, 3Com, Alvarion and on the industrial side Westermo we have staff with experience to make this technology work transparently. We will survey, design, install and support the solution whatever the application. We also offer radio equipment operating at 110v or with DC power inputs in areas of your site where 240v is not possible.
For a remote site requirement, for example a site cabin or security hut where the civil issues and costs are prohibitive a secure wireless solution from Cabledata is perfect, No leased lines, no expensive ducts, quick deployment and can be re-located / re-aligned if the cabin should be moved.
Next steps
To find out more about our Wireless Solutions please call 01905 354387