Data & network cabling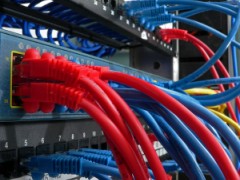 Key services
Category 5e, 6, 6a & 7a systems
Moves, adds and changes
Labeling and documentation
Floor boxes and service poles
Comms cabinets to suit all needs
Cabinet Re-fit / refresh
Cable containment solutions
At the core of our business is the installation of copper twisted pair based structured cabling systems and remains our foremost activity today. We deliver systems from major manufactures and provide warranties for these systems of 15-25 years to protect your investment
Your data cabling could serve you for ten to fifteen years, longer than any other part of your network, yet it accounts for a relatively small percentage of the IT budget. Networks are rarely static environments and your cabling system should allow for growth and be flexible.
Cabledata offers the latest and evolving UTP / FTP technology as documented in the international wiring standards produced by the IEEE committees; TIA/EIA, ISO 11801 and all subsequent publications.
It is vital to us that we install for you a system that will provide superior electrical performance with adequate room to accommodate future technology. The systems must also be flexible enough to provide end to end performance stability regardless of the number of moves and additions to the network you wish to make.
To Specify a Structured Cabling system that will meet your long term communication needs is a challenging and rewarding task to us, given the speeds at which the technology is advancing.
We at Cabledata offer a complete service for troubleshooting, cable and equipment upgrades and moves, adds, and changes (MACs). We are trained to work quickly, politely, and efficiently to ensure a quality job. When you call, as you would expect our engineers carry all the necessary materials and testing equipment required for the task. We can provide a single engineer for a day for small works and we also have capacity to cover large multifloor installations.
We can assist with: -
Small to large systems installation
Relocation of existing cabling and systems
Cable infrastructure maintenance
Temporary cabling
Tray, basket, strut installation
Cross-connection and voice activation
Extensions / demarcation points
Service pole / post's for open plan offices
Fully equipped fleet of service vehicles
Fast response to service requests
Next steps
To find out more about cabling infrastructures please call 01905 354387