Testing & certification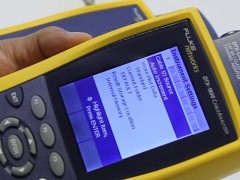 Key services
Data cable installation testing
Voice / telephony cable testing
Fibre power & light source
Fibre OTDR testing
Data and fibre certification
Fault finding and troubleshooting
Sub-contract testing service
Cabledata tests every link in every installation to ensure standards and warranty compliance of our design and installation.
If you are about to move office you should verify your new infrastructure or if you have some non-working ports on you existing network, we can test them and provide a report as to the cause and recommendations for repairs. Approximately 75% of all network faults are cable related – mostly due to incorrect installation. We can rectify these faults before you move into your new office and start experiencing problems.
Breakdown or emergency – we also offer an emergency cable test and repair service as even the most well maintained premises can have issues such as rodent damage, broken or chopped cables, we can get you up and running again with minimum downtime to your users.
We offer a full network cable testing service for both copper and fibre installations using Fluke equipment.
Next steps
If you need assistance – we are happy to help please call 01905 354387