Fibre optic cabling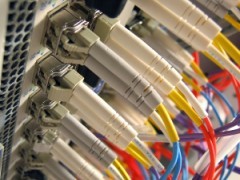 Key services
Backbone links
Fibre patch panels
Sub-contract fibre termination
Hazardous / IS area links
External armored - CSTA & SWA
Fibre containment systems
Breakdown and fault finding
As cabling systems become larger and the need to transmit data at ever increasing rates becomes greater the case for fibre optic cabling becomes more relevant. Whether it is used as a vertical backbone or to link buildings across a campus, fibre optic cabling offers a modern, cost-effective solution. Our fibre optic cabling installation portfolio includes:
Multimode cables (OM1, OM2, OM3 & OM4)
Singlemode cables (OS1 and OS2)
Tight Buffered and Loose Tube constructions
Internal, External and Universal sheath options
Rodent Resistant CSTA and Steel Wire Armored cables for harsh environments
Fibre To The Desk (FTTD)
ST, SC, MT-RJ, LC terminations
Greater speed
Removes distance related barriers
Fibre is inert so perfect for IS areas
Cabledata have the capability to carry out on-site terminations using the latest Fujikura fusion splicing equipment or a variety of direct termination techniques (hot melt, cold cure/anaerobic, crimp, etc.). Testing can be carried out using Power Light Meters or Optical Time Domain Reflectometers (OTDRs) and test results are provided as part of the handover documentation.
Fibre connectivity and provision is also provided to other CCTV, access control, network installers, and automation companies on a sub-contract basis.
Next steps
To find out more about the benefits of Fibre cabling please call 01905 354387