Quarrying / Construction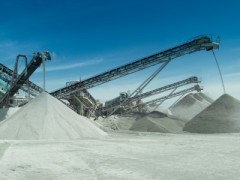 Quarry and construction sites are very harsh environments with health and safety and geographic issues to deal with.
Our engineers have 25 years of experience of working in this field and have undergone specific industry training and hold saftey passports for the major operating companies in the industry.
The solutions must be installed as robust as the environment; typically long range fibre optic and wireless links are used for remote buildings, plant, SCADA / PLC control applications, CCTV and access control.
Cabledata has been involved in a number of projects for one of the largest Aggregates producers in the UK, e.g. rolling out Cisco radio link connections to replace leased lines on 30 sites, providing armored fibre links to control crushing and screening plant automation, and breakdown support throughout the UK.
We also installed last year a highly complicated 3.5Km fibre backbone to support a replacement VoIP phone system, plant and production CCTV monitoring and new quarry control system at one of the largest Limestone quarries in the country.
The site required 12 localised sub station and plant comms cabinets linked by an 8 core fibre backbone, all cabinets housed UPS systems and Cisco managed switches configured into a redundant ring.
The Global Infrastructure specialist commented "The project was certainly an undertaking!, the site held so many challenges all of which were met by Cabledata", "The local management were very impressed at the level of co-ordination and everyone involved on the ground was very professional".
"The installation is first class; just the containment alone required on such a large job is a real work of art. I witnessed the testing of all 250 fibre cores which all passed first time - a real credit to Stuart"
Next steps
Do you work in the quarrying or construction industry or would like to know more....Call us for more details on 01905-354387