Medical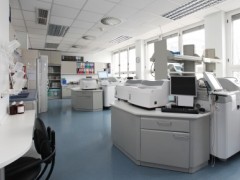 Medical establishments are a unique and sensitive environment, requiring very professional installation methods and protocols.
Our project managers and engineers are very competent in dealing with issues such as hygiene, noise, privacy and restrictive working hours. Work carried out in a clinical environment around members of the public must be carried out in a proffesional and above all a safe and considerate manner. Our in-depth site surveys are a key component in the process of ensuring projects are a success.
Cabledata has a great deal of experience with the medical sector with long relationships with the leading cosmetic surgery provider and mental healthcare providers in the UK. Our supply to these businesses involves AV, structured cabling and CCTV at its clinics across the country.
We have also recently completed a new specialist surgical hospital in London supplying the structured cabling and CCTV provision to this showpiece site.
The Hospital facilities manager on completion of the works said "We have made a major investment in this hospital and Cabledata have provided a cabling scheme that gives patient bedside connectivity for internet, phone and TV, and our hospital and building management systems".
"We have worked with Cabledata for quite some time now and had no hesitation in placing this business with them - I know they will not let us down"
Next steps
To discuss your requirements, contact us on 01905 354387