Industrial / Manufacturing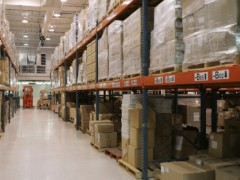 Our engineers industry experience has made us very familiar with the challenges imposed by manufacturing environments.
The network architecture may be similar to other organisations but particular issues affect the cabling. Long difficult cable runs, containment issues, electrical noise, corrosive or harsh environments and typically difficult access are just some of the challenges. We gather a large amount of detail needed at the site survey stage so that the project can be carefully planned to avoid any unwanted surprises.
The individual areas of concern requiring coordination or health and safety matters are discussed and agreed practices are mapped out in advance of any works.
Cabledata were contracted last year to supply data and telephone infrastructure to a brand new fully automated £50Million brick manufacturing plant in Leicester. The work was in two phases with initially enabling works to re-route the main fibre and voice backbone cabling to allow for construction of the new factory whilst maintaining connectivity to the existing production facility.
The second phase once construction and factory fit out was complete was to link 4 control rooms with fibre optic and multicore copper links and to commission ethernet switches and provision telephony and fax lines in each case. The cable route required the installation of a large volume of complicated traywork and containment between each control room.
Upon completion the site manager said "Cabledata have done a sterling job, the initial move of the services worried me but the only down time we experienced was in the planned out of hours cut over". "The new installation was complicated due to all of our automation machinery and plant but Cabledata have excelled themselves once again"
Next steps
To discuss a specific project or to find out more about our industrial / manufacturing experiance please call us on 01905 354387