Corporate / Office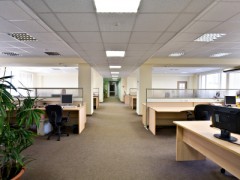 We understand the complexity of large corporate networks, and the resilience required for uninterrupted business operations.
We design, install and support IT infrastructure for organisations with one to thousands of users. No matter what size your business may be, we can tailor a structured cabling scheme to suit technically and commercially. We have years of experience dealing the multitude of building fabrics from centuries old timber framed premises to the modern false ceiling and raised floor luxury. We can offer a specific installation that is sensitive and in-keeping with the premises.
Typically with companies office relocations, moves, add's and changes (MAC's) are the 'norm'. Today's flexible approach to structured cabling allows for this process. At Cabledata we offer the resources and expertise, our specialist engineers work swiftly and subtly to ensure that communication downtime and disruption to your company are kept to a minimum.
We recently were involved in a project to overhaul the cabling of a Sales centre in Peterborough. The work required the migration of three sites from an old legacy phone system, which included two factories and a sales office. The sales office was to be refurbished to house several divisional call centres, but this had multiple phases to allow existing staff to still work out of the office whilst refurbishments were taking place.
The group customer services manager said "This was a complicated project which changed many times, and to their credit Cabledata were extremely accommodating, always willing to assist even if it was outside their scope of supply. They provided solutions to the problems to ensure we achieved our goals and the project was a resounding success".
Next steps
To discuss your requirements, contact us on 01905 354387