Education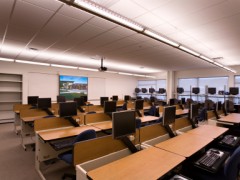 We understand the challenges that schools face, in particular data security, traffic and network management. We provide schools a sound IT platform to deliver a media rich curriculum.
At Cabledata we know that you are forever being asked to do more with less as you stretch your IT budget just that little bit further. We work with a number of schools so we appreciate your concerns. As experts in all areas of PC networking, we can advise on how to maximise improvements to your network for the budget you have.
If you're looking at a wireless implementation, you've found the right partner. We are able to provide solutions utilising hardware from all leading manufacturers with particular experience with Cisco Wireless solutions. Our wireless engineers will assist and advise you on how best to implement a solution that is both secure and reliable.
A number of large and small educational establishments have benefited from our design, installation and support expertise. The design will depend on a number of factors, and the proposed solution will be sensitive to the budget you have to work to.
Managed architecture is crucial for maintaining fast and reliable services to users and, due to the distances between communications rooms, fibre optic cabling is often required for the backbone.
We have particular experience with AV installations in schools - including a recent media room where we were contracted to complete a remote fibre link to the IT room and provide power, network and benching for 30 students and install a ceiling mounted projector and speakers for the room.
The head of department said "I have worked with a number of installers but Cabledata are by far the best", "the quality of work is outstanding and I would have no hesitation in recomending them to others".
Above all we understand the protocol in working in the education environment, and all our engineers are trained and accredited for both health and saftey and security.
Next steps
To discuss your requirements, contact us on 01905 354387