Retail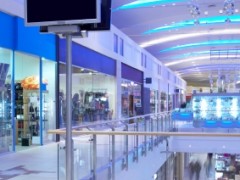 Whether it's a single installation or a roll-out of stores across the UK, Cabledata has the experience and track record to ensure we meet your needs.
The retail environment typically can utilise data, voice, AV, wireless and CCTV. One common infrastructure for these services provides cost benefits and gives flexibility to the changing retail space.
Cabledata can provide a complete package and are well versed in working in the retail sector. When changes are needed your installer must be acutely aware of working within your premises where there is an inherent health and safety risk to members of the public.
We have been involved with a number of retail clients including an outlet store where we were contracted to install 19 remote Point of sale / information displays fed from a central video distribution server, and 15 remote CCTV fibre links to the car parks. The project had to take place both in and outside of store hours using powered access equipment, and at the end of each shift the work area's had to cleared, made safe and as aesthetically pleasing as possible.
We have also recently supplied a chain of convenience stores ceiling mounted wireless access points for EPOS scanning equipment and an IP CCTV solution. The system comprised fixed and PTZ dome cameras to cover the retail and till points with public facing monitors together with a security desk control station. The system was cabled back to the comms cabinet where a digital DVR was securely installed with remote access capability.
The store facilities manager after the hand-over said "We tendered three companies for the CCTV provision but it made sense to use an installer who could provide everything we needed on this project". "Cabledata were recommended to us and I am very pleased with all aspects of there service, and I will have no hesitation in using them again as our preferred supplier".
Next steps
Please call us and arrange a store survey....call 01905-354387