IP CCTV systems & installation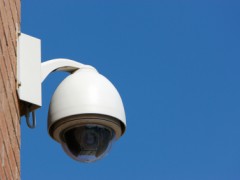 Key services
Internal and external camers
Replacement of Traditional with IP
Fixed, PTZ and ANPR cameras
Wireless and fibre connectivity
DVR, NVR, storage solutions
Remote eyes only systems
PC, internet, tablet and mobile viewing
Cabledata offer a wide range of IP based CCTV systems to suit your needs from high-end analytics to a more budget conscious small office solution.
Supported across all classes of structured cabling, fibre optic and wireless infrastructure, IP CCTV is the latest development to take advantage of the flexibility of modern cabling systems. IP CCTV cameras work across your standard twisted pair cabling and are viewable either via web browser, PC, tablet, mobile using bespoke multi-camera software platforms.
Cameras use PoE or "Power over Ethernet", eliminating the need for dedicated electrical supplies at the camera position.
We can install your NVR/DVR in a centralised secure comms cabinet installation and provide multi position viewing and camera selection using your structured cabling to distribute the output.
Cabledata are also happy to complete system shifts and upgrades - perhaps you need an additional camera on your system. For cameras at height all our engineers are qualified IPAF license holders.
Utilising our diverse skill sets Cabledata can provide remote CCTV links accross your site using fibre optic cabling, (existing or new), and if no cable route or ducts exist using wireless technology.
Next steps
Do you have a CCTV requirement... please call 01905 354387